Titebond II Fluorescent Wood Glue - 5 Gallon
Usually ships within 3 to 4 days
SKU
T2317
MFR
Franklin International
Enables detection and removal of dried glue before finishing (Visible under black light).
MFR
Franklin International
Titebond II Fluorescent can help any woodworker achieve professional-looking results. It provides a strong initial tack and fast speed of set to reduce clamp time. It also develops bonds stronger than wood, offers excellent sandability, and is unaffected by finishes. Titebond II Fluorescent contains a dye that, when viewed under a black light, enables woodworkers to inspect the glue line and assist in the cleanup process. It is ideal for most porous materials, is easy to use and cleans up with water.
Visible under black light
Enables detection and removal of dried glue before finishing
Passes ANSI Type II water-resistance
Versatile - Bonds wood, hardboard, high pressure laminates and particleboard
Excellent heat and solvent-resistance
Fast set - Shortens clamp time
Ideal for radio frequency (R-F) gluing systems
Easy cleanup with water
Physical Properties (Typical)
Type: Cross-linking polyvinyl acetate
State: Liquid
Color: Honey cream
Dried film: Translucent, yellow
Solids: 48%
Viscosity: 4,000 cps
pH: 3.0
Calculated VOC: 5.5 g/L
Weight/gallon: 9.1 lbs.
Chalk temperature*: Approx 55°F
Flash-point: >200°F
Freeze/thaw stability: Stable
Storage life: 24 months in tightly closed containers below 75°F
*Chalk temperature indicates the lowest recommended temperature at which the glue, air and materials can be during application, to assure a good bond.
Application Guidelines
Application Temperature: Above 55 °F
Open assembly time: 5 minutes (70°F. / 50% RH)
Total assembly time: 10 to 15 minutes (70°F. / 50% RH)
Minimum required spread: 6 mils (typical), or 250 square feet per gallon.
Required clamping pressure: Enough to bring joints tightly together (generally 100-150 psi for softwoods, 125-175 psi for medium woods, and 175-250 psi for hardwoods)
Methods of application: Plastic bottles for fine applications; glue may also be spread with a roller spreader, or brush.
Cleanup: Damp cloth while glue is wet. Scrape off and sand dried excess.
Bonding Strength (ASTM D-905 Test with Hard Maple)
| Temperature | Strength | Wood Failure |
| --- | --- | --- |
| Room Temperature | 3,750 psi | 72% |
| 150°F. Overnight | 1,750 psi | 6% |
Limitations
Titebond II Fluorescent Glue is not for continuous submersion or for use below the waterline. Not for structural or load bearing applications. Do not use when temperature, glue or materials are below 55°F. Freezing may not affect the function of the product but may cause it to thicken. Agitation should restore product to original form. Because of variances in the surfaces of treated lumber, it is a good idea to test for adhesion. For best results gluing exotic or oily woods, such as Ipe and Teak, please contact Titebond Technical Support Team at 1-800-347-4583. Not FDA approved for indirect food contact. Read MSDS before use.

Keep from freezing. Keep out of reach of children.
Available Sizes
Typical Ground Transit Time: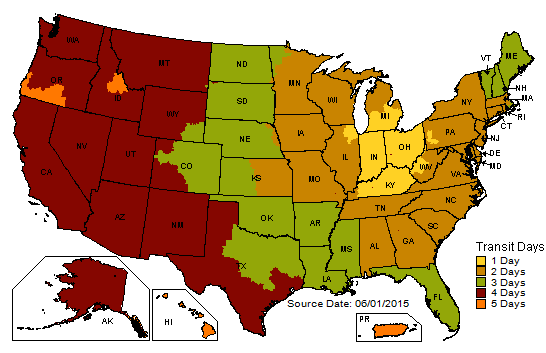 Shipping Details:
Normal processing time for all orders is one business day unless the item is flagged as a special order or has a noted lead time. Unforeseen events may cause delays (such as closed roads, weather, war, acts of God, etc). Please note that ship times are estimates only and are not guarantees.
This item will ship directly from the manufacturers warehouse. This will cause a 3 to 4 day lead time before your order ships to you.