Titebond Instant Bond Adhesive (Thin) - 2 oz
22 left on hand, additional units may have lead time
SKU
T6201
MFR:
Franklin International
Versatile - Bonds wood, MDF, acrylic, granite, natural rubber, PVC and more!
MFR:
Franklin International
Fast set - Eliminates clamping or reduces clamp time
Bonds stronger than wood
Excellent heat and solvent-resistance
Unaffected by finishes
Versatile - Bonds wood, MDF, acrylic, granite, natural rubber, PVC and more
2 year shelf life
Triple distilled for purity & consistency
Impact-resistant
No-clog applicator for easy use and waste reduction
MIL Spec (A46050C) Type II, Class 1
Physical Properties (Typical)
Type: Ethyl cyanoacrylate
State: Liquid
Color: Clear
Dried film: Translucent
Solids: 100%
Viscosity: 5 cps
Reactive VOC: 20 g/L
Weight/gallon: 9.18 lbs.
Flash-point: >178°F
Specific gravity: 1.09
Freeze/thaw stability: Stable
Storage life: 2 years in tightly closed containers between 40° & 70°F
Application Guidelines
Application Temperature: Above 50 °F
Cure Speed: 5 seconds handling time, another 3 seconds until set, cure in 30 seconds (full cure in 8 hours).
Cleanup: Acetone.
Bonding Strength (ASTM D-1002 Various Substrates)
| Temperature | Strength |
| --- | --- |
| Room Temperature | 2,800 to 4,200 psi |
Limitations
Titebond Instant Bond Wood Adhesive is not intended for exterior use or where moisture is likely. Store in a cool, dry place. Handling and set times may be affected by environmental conditions. For best results, apply adhesive between 55°F and 85°F. Do not allow skin contact; do you like gluing your hand to things? Because this is how you glue your hand to things. Avoid breathing vapors. Do not swallow.

Keep from freezing. Keep out of reach of children.
All Available Instant Bond
Instant Bond Accelerator
Typical Ground Transit Time: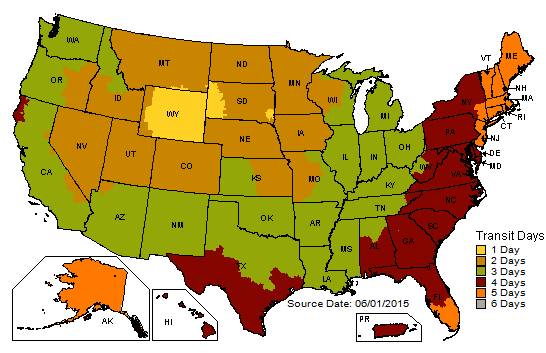 Shipping Details:
Normal processing time for all orders is one business day unless the item is flagged as a special order or has a noted lead time. Unforeseen events may cause delays (such as closed roads, weather, war, acts of God, etc). Please note that ship times are estimates only and are not guarantees.