Titebond Melamine Glue - 55 Gallon
Usually ships within 7 to 10 days
SKU
T4018
MFR:
Franklin International
A versatile glue designed for bonding wood and other porous substrates to synthetic materials such as melamine, vinyl, HPL and metals. It offers a fast initial tack, yet has a longer open time that allows for the accurate alignment of working materials. It's thicker formulation offers fewer runs and drips, making it easier to use for precise assemblies. By using Titebond Melamine Glue you can expect superior & consistent performance with each and every application. Titebond Melamine Glue is made from the same high-performance, consistent materials as the rest of the Titebond line to ensure a successful bond.
Significantly stronger than the leading competitor at room & elevated temperatures.
Superior heat-resistance for kitchen applications (less tendency to de-laminate due to heated pots & pans vs standard adhesives).
Excellent initial tack, good flow properties & solid surface coverage.
Consistent quality & performance with each use.
Low odor & dries clear.
Water cleanup & nonflammable.
Physical Properties (Typical)
Type: Specialized Vinyl Acetate Emulsion
State: Liquid
Color: White
Dried film: Clear
Solids: 59%
Viscosity: 12,000 cps
pH: 3.5 - 4.5
Calculated VOC (less water): 2.32 g/L
Weight/gallon: 9.1 lbs.
Chalk temperature*: Approx 35°F
Flash-point: >200°F
Freeze/thaw stability: Unstable
Storage life: 12 months in tightly closed containers at 75°F
*Chalk temperature indicates the lowest recommended temperature at which the glue, air and materials can be during application, to assure a good bond.
Application Guidelines
Application Temperature: Above 40 °F
Open assembly time: 5 minutes (70°F. /50% RH)
Assembly time after glue application: 10-15 minutes (70°F. /50% RH)
Minimum required spread: 6 to 7 mils (typical), or 250 square feet per gallon.
Required clamping pressure: Enough to bring joints tightly together (generally, 30-80 psi for HPL,100-150 psi for softwoods,125-175 psi for medium woods and 175-250 psi for hardwoods)
Methods of application: Easily spread with a roller spreader or brush, or may be transferred to plastic bottles for finer gluing applications.
Cleanup: Damp cloth while glue is wet. Scrape off and sand dried excess.
Bond Strength (ASTM D-905)
Limitations
Titebond Melamine Glue is not intended for exterior use or where moisture is likely. Not for structural or load bearing applications. Vacuum pressing should only be used for veneers up to 1/16 inch in thickness. Do not use when temperature, glue or materials are below 40°F. If product has been frozen (gel-like appearance), it cannot be used. Read MSDS before use.

Keep from freezing. Keep out of reach of children.
Available Sizes
Typical Ground Transit Time: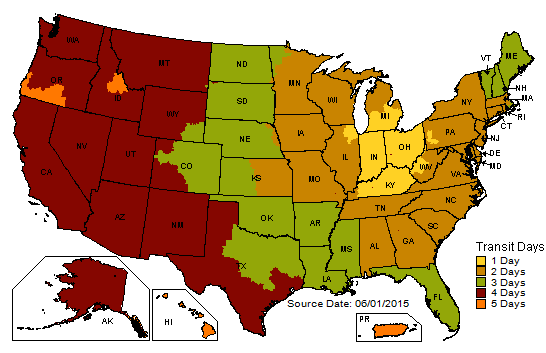 Shipping Details:
Normal processing time for all orders is one business day unless the item is flagged as a special order or has a noted lead time. Unforeseen events may cause delays (such as closed roads, weather, war, acts of God, etc). Please note that ship times are estimates only and are not guarantees.
This item will be placed on one of our weekly stock orders (placed every few days). This will cause a 7 to 10 day lead time before your order ships out to you. Options to expedite your order may be available depending on the manufacturer. Please use the "Have a Question" tab to contact us in regards to this particular item.