Titebond Polyurethane Glue - 12 oz
5 left on hand, additional units may have lead time
SKU
T2300
MFR:
Franklin International
100% waterproof (Passes ANSI Type I & II water-resistance testing). Epoxy-like strength with no mixing. Bonds virtually everything!
MFR:
Franklin International
Titebond Polyurethane Glue is a breakthrough in adhesive technology. It is the only polyurethane glue to combine a long 30-minute working time with a short 45-minute clamp time. It is a versatile, professional-strength glue specifically formulated for multi-purpose applications. In addition to its superior wood-to-wood performance, Titebond Polyurethane Glue is ideal for metals, ceramics, most plastics, HPL, Corian, stone and other porous/non-porous materials. It is ready-to-use, offers excellent sandability and is unaffected by finishes.
100% waterproof (Passes ANSI Type I & II water-resistance testing)
Bonds virtually everything
Epoxy-like strength - No mixing
Short clamp & fast cure
Excellent sandability
100% solids
Solvent free
Physical Properties (Typical)
Type: Polyurethane
State: Liquid
Color: Brown
Dried film: Yellow
Solids: 100%
Viscosity: 8,500 cps
pH: N/A
Calculated VOC: 0 g/L
Weight/gallon: 9.55 lbs.
Chalk temperature*: N/A
Flash-point: >200°F
Freeze/thaw stability: Stable
Storage life: 12 months in tightly closed containers below 75°F
*Chalk temperature indicates the lowest recommended temperature at which the glue, air and materials can be during application, to assure a good bond.
Application Guidelines
Application Temperature: Above 50 °F
Open assembly time: 25 to 30 minutes (70°F. / 50% RH)
Minimum required spread: 6 mils (typical), or 250 square feet per gallon.
Required clamping pressure: Enough to bring joints tightly together (generally 30-80 psi for HPL, 100-150 psi for softwoods, 125-175 psi for medium woods, and 175-250 psi for hardwoods)
Methods of application: Easily spread with a roller, spreader or brush. (Note: This product cures by reaction with moisture. Changes in humidity, temperature and moisture content of the glued surfaces will affect open time and minimum clamp time. Maximum open time can be determined by excessive foam development in the adhesive. Minimum clamp time can be determined when squeeze out of adhesive becomes firm.)
Cleanup: Mineral spirits while glue is wet. Scrape or sand off dried excess.
Bonding Strength (ASTM D-905 Test with Hard Maple)
| Temperature | Strength | Wood Failure |
| --- | --- | --- |
| Room Temperature | 3,500+ psi | 60% |
| 150°F. Overnight | 3,000 psi | 50% |
Limitations
Titebond Polyurethane Glue is not for structural applications or for use below the waterline. For ease of application, the glue, temperature and materials to be bonded should be above 50°F. Lower temperatures will cause the glue to thicken.
Available Sizes
Typical Ground Transit Time: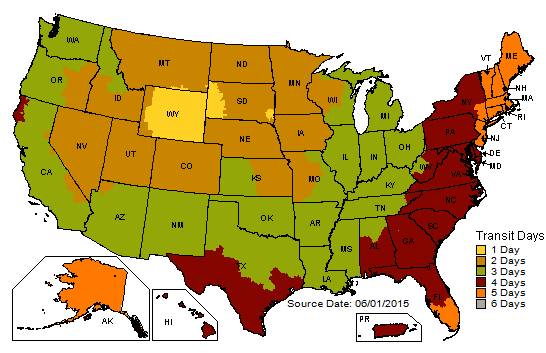 Shipping Details:
Normal processing time for all orders is one business day unless the item is flagged as a special order or has a noted lead time. Unforeseen events may cause delays (such as closed roads, weather, war, acts of God, etc). Please note that ship times are estimates only and are not guarantees.