Titebond Cold Press Veneer Adhesive - 5 Gallon
2 left on hand, additional units may have lead time
SKU
T5177
MFR:
Franklin International
Economical alternative to contact cement that is formulated to minimize "bleed-through"
MFR:
Franklin International
Titebond Cold Press for Veneer is a high-quality, economical alternative to contact cement for large-scale bonding of veneers to flat surfaces. It is specifically formulated for cold press laminating of wood to solid woods, particleboard, MDF, plywood and other porous materials. Titebond Cold Press offers a moderate speed of set, a translucent glue line and contains none of the harmful or corrosive fumes typical of most contact cements. It also prevents bleed-through on open-grained and unbacked wood veneers.
Economical alternative to contact cement
Formulated to minimize "bleed-through"
Moderate speed of set
No harmful vapors
Safe - nonflammable
Physical Properties (Typical)
State: Liquid
Color: Tan
Dried film: Dark Brown
Solids: 42%
Viscosity: 4,500 cps
pH: 4.9
Calculated VOC: 2.0 g/L
Weight/gallon: 9.2 lbs.
Chalk temperature*: Approx 55°F
Flash-point: >200°F
Freeze/thaw stability: Stable
Storage life: 12 months in tightly closed containers below 70°F
*Chalk temperature indicates the lowest recommended temperature at which the glue, air and materials can be during application, to assure a good bond.
Application Guidelines
Application Temperature: Above 50 °F
Open assembly time: 15 minutes (70°F. / 50% RH)
Total assembly time: 15 to 20 minutes (70°F. / 50% RH)
Minimum required spread: 6 mils (typical), or 250 square feet per gallon.
Required pressure for application: 100 to 250 psi, depending on substrate.
Method of application: For most consistent coverage a mechanical spreader is recommended.
Cleanup: Damp cloth while glue is wet. Scrape off and sand dried excess.
Bonding Strength (ASTM D-905 Test with Hard Maple)
| Temperature | Strength | Wood Failure |
| --- | --- | --- |
| Room Temperature | 2,508 psi | 6% |
| 150°F. Overnight | 656 psi | 0% |
Limitations
Titebond Cold Press for Veneer is specifically designed for veneering and is not suited for other types of assembly applications. Not recommended for exterior use or where moisture is likely. Do not use when temperature, glue or materials are below 50°F. Freezing may not affect the function of the product but may cause it to thicken. Agitation should restore product to original form. Read MSDS before use.

Keep from freezing. Keep out of reach of children.
Available Sizes
Typical Ground Transit Time: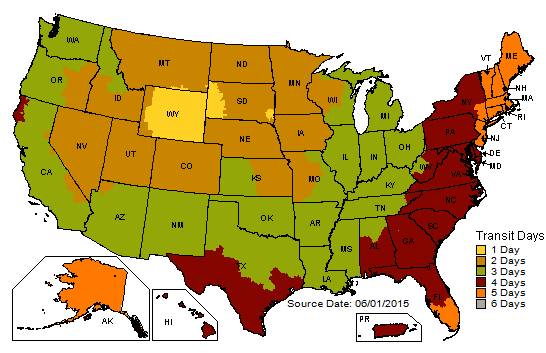 Shipping Details:
Normal processing time for all orders is one business day unless the item is flagged as a special order or has a noted lead time. Unforeseen events may cause delays (such as closed roads, weather, war, acts of God, etc). Please note that ship times are estimates only and are not guarantees.